Modern Alchemy Foot Ritual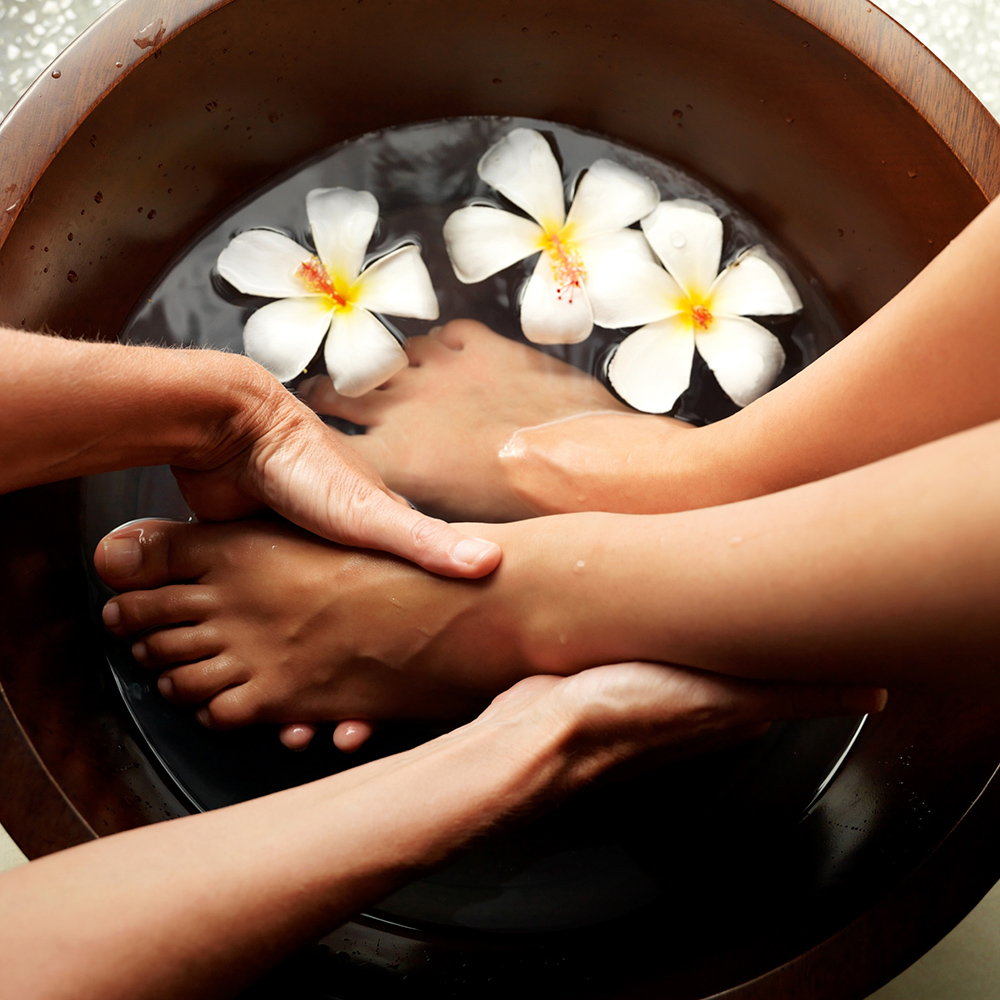 To mark our 35th birthday this autumn we have put together a luxurious brand new Pedicure, our "Modern Alchemy Foot Ritual" in collaboration with ESPA and using their deeply sensuous body care collection, Modern Alchemy fuses ancestral wisdom, sacred rituals and revered ingredients with powerful actives. Our ESPA Foot Ritual will take you on a sensual journey to distant lands. This is not just a Pedicure it is an indulgent harmonising and transformative treatment for your feet, designed to soothe the skin, and realign the delicate balance between body and mind.
Let your therapist smother your feet with the luxurious cream to oil formulation of The Cleansing Milk, this cleanser will melt away impurities. Watch the formula transform into a rich milk as it releases the precious essential oils. Immerse your feet in The Grounding Crystals infused with Rose Petals, Himalayan Pink Salt, Epsom Salt and Amber Extract. Experience deep exfoliation from The Purifying Polish, a deep cleansing balm that gently buffs away dead skin cells and impurities. Relax while your whole lower leg is deeply massaged with Hot Stones and a delicate moisturising Hydrating Lotion, and your feet are massaged with The Nourishing Balm, both inspired by ancient practices and used to restore balance and connection. This truly is a hedonistic ritual.
This pedicure also includes cuticle preparation, nail cut and file and application of your chosen nail colour from hundreds of Orly polish shades.
For a limited time only book this luxurious 55 minute treatment and receive the ESPA *Tri-Active Collection full of miniatures inside a vegan leather bag, (while stocks last).
£49
worth £113
*Espa Tri-Active Collection:
Tri-Active Advanced Instant Facial 7ml
Tri-Active Advanced ProBiome Eye Cream 3ml
Tri-Active Advanced ProBiome Serum 5ml
Smooth & Firm Body Butter 30ml
Regenerating Moisture Complex 7ml
All this is only £49 but worth £113 throughout December
Offer must be paid for at time of booking, *Gift available while stocks last and given on departure.
Posted on 11th September 2020