Salon Guidelines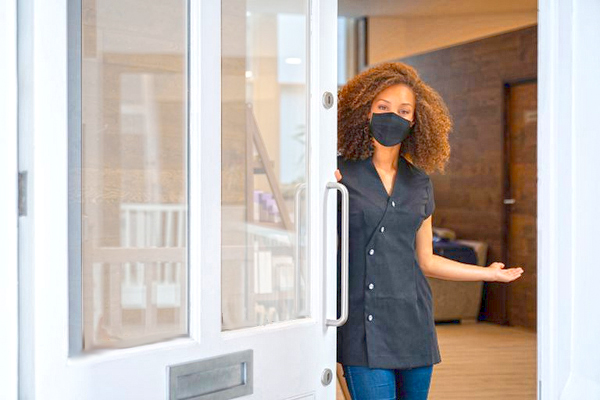 OUR COMMITMENT
We will provide you with the safest environment possible.
OUR SALON
We have undertaken a thorough review of our salon and the services we offer.
We will be limiting the amount of clients in the salon at one time.
We have rearranged our waiting, reception and treatment areas to ease social distancing.
All items of equipment are  cleaned before and after every treatment. This includes all metal instruments brushes bowls and tweezers.
One use disposable items will be used where necessary.
We no longer offer magazines however you are welcome to bring your own.
OUR TEAM
We have conducted training to ensure all team members care for our customers in a safe, hygienic and professional manner.
Staff will uphold safe standards while dealing with responsibilities at reception.
We will be providing our staff with single use masks, gloves, visors, safety glasses and disposable aprons, to be used where necessary.
GUEST ARRIVAL & RECEPTION
We will greet you warmly but without hugs, handshakes or personal contact. We will stagger customer arrival times to minimise close contact.
We politely ask you to consider wearing a mask during your treatments where possible.
We ask you to complete our 'new' TREATMENT CONSENT FORM
Where possible we will escort you straight to the treatment area/room to avoid congestion in the waiting area.
We ask you to pay using card or other cashless means where possible.
WE ASK YOU, OUR CUSTOMERS
To have a tint tests every 6 months and, or if you have had a positive Covid test or Covid symptoms since your last tint treatment.
To arrive at the time agreed, to maximise social distancing. If you are early you may be asked to wait outside. All appointments must be booked, we will not be taking walk-ins during this period.
To wash your hands and /or use hand sanitiser as directed by our team.
Please turn up alone, do not bring children, friends or family members with you.
Please do not bring personal items with you, eg, large bags, shopping, and parcels.
Please give 24 hours notice for all cancellations. A fee of 30% will apply to late cancellations or non-arrivals, and treatments previously booked in which you decide not to have on the day.
Please cancel your appointment if you feel unwell or detect any virus symptoms or if you have been advised to self isolate. We will have to ask you to politely leave the salon if you have a persistent cough or cold when you attend. (Our regular cancellation policy will be suspended on these occasions). It is our commitment to other clients and staff to keep them safe from any potential cross-infection. Thank you for your understanding in this matter.
We are happy to discuss any of your individual concerns, please feel free to speak with a member of staff.
We reserve the right to amend or adjust these guidelines based on Government policy and new research to protect the safety of all our staff and clients.
Posted on 02nd April 2021